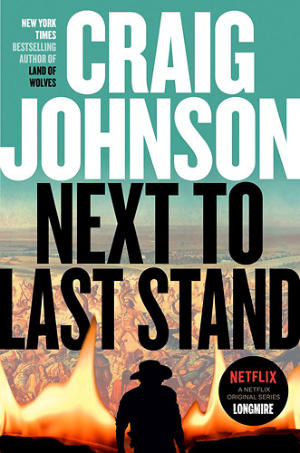 The Tinderbox, Soldier of Indira
We have limited copies of Lou Diamond
Phillip's book,

The Tinder Box: Soldier of
Indira
, available with exclusively signed
bookplates. Call 307-425-1020 from 10 to
5 Mountain Time which is the Bucking
Buffalo Supply Co., and we will take your
order.
Longmire Buff
Wear it with pride as you protect others
and yourself, $12.00 plus shipping.
Poster
Walt Longmire and his Bronco, both
feeling out of sorts - VIRTUAL LONGMIRE
DAYS, August 13-16, 2020, vertical
poster. $27 plus shipping, includes
mailing tube.
Virtual Long T
Heather gray long sleeve, light weight 90-
10 American Apparel t-shirt, with
LONGMIRE logo on the front left, Walt
and his Bronco, both out of sorts, on the
back. Silk screened in Laramie, Wyoming
and designed by

Joel Katz Design
Associates, Philadelphia, PA.
$28.95, plus shipping
2XL, $32.95 plus shipping
Sizing Chart
Virtual Short T
Heather gray, short sleeve, light weight 90-
10 American Apparel t-shirt, with Walt and
his Bronco, both out of sorts, silk screened
in Laramie, Wyoming and designed by
Joel Katz Design Associates, Philadelphia,
PA
$24.95 plus shipping
Size 2XL, $28.95 plus shipping
Size 3XL, $29.95 plus shipping
Sizing
Chart
VIRTUAL LONGMIRE DAYS

© Craig Johnson All Rights Reserved